Sound Resource - At Rest
From an extension, garage or loft conversion to a townhouse or country estate there are entertainment and smart-home systems to suit all homes and budgets.

Multi-Room Audio & HDTV
Multi-room gives all the flexibility of having high quality sound systems in every room of the home without the need for hi-fi units, box speakers and trailing leads cluttering your living space. Each room can simultaneously access a centralised system via wall mount or handheld touchscreens. High quality sound can be heard through discreet in-ceiling speakers.
Multi-room HDTV works in the same way by giving you a centralised system that allows you to watch high definition satellite/cable, terrestrial TV and your entire DVD collection from any room in the home.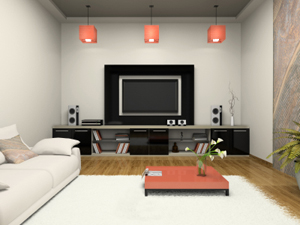 Home Cinema
Why do we go to the local high street multiplex when the DVD is usually released within a short while after the much publicised premier? The reason is the experience, it's about seeing the latest blockbuster at its best as the director intended. The atmosphere, the sound and visual effects can all be experienced in the convenience of your own home; whether a family room or a dedicated space.
Security & Door Entry
Whether you are at home, out shopping or on holiday, an integrated security system will help protect your family, home and possessions. CCTV, door entry, intruder alarm and an arsenal of sensors, beams and detectors can be utilised to create a system tailored to your exact requirements and environment. Although the intention is not to create a "Fort Knox" solution, current technology is available that can give you the level of security you'll feel comfortable with.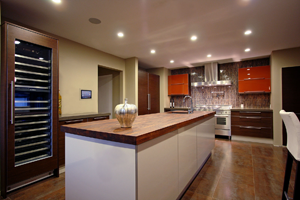 Lighting Control
Single room or whole home and garden lighting control can transform your home, it provides atmosphere, convenience, security and energy saving. A single wall mounted keypad, similar in size to a conventional light switch, can control the lighting throughout the whole home. The system can save energy by automatically adjusting interior light levels depending on time of day or if the room is occupied.
Smart-Home Integration
There is so much hype about 'smart homes' and 'system integration', so what exactly do these terms mean? Generally speaking, smart-home integration refers to anything that gives you control over the various technologies or 'sub-systems' found in your home; from the simple security, lighting, blinds, heating ventilation and air conditioning (HVAC); to the slightly more advanced multi-room audio, HDTV and home cinema.
Control is typically via the use of wall mounted keypads, touch screens or wireless handheld units that are tailored to your needs.